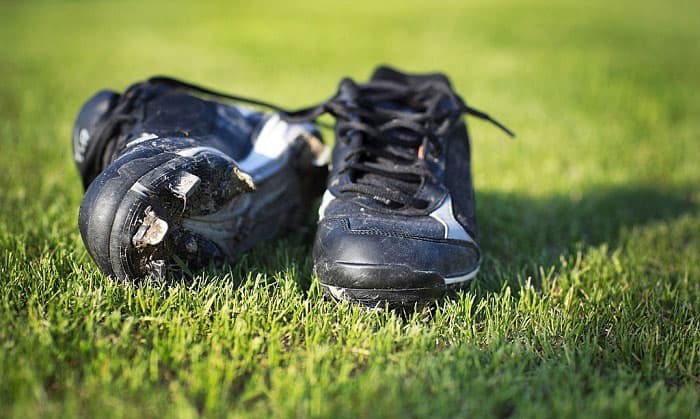 Baseball cleats are all about fit, precision, accuracy, and comfort. Without prioritizing these aspects, one would find it difficult to sustain in the game. Finding one even becomes more complicated if one has a wide pair of feet.
Thus, this article listed and reviewed the seven best youth baseball cleats for wide feet. The review will hopefully simplify the selection process for fitting baseball cleats.
The top three qualities of the top cleats below should narrow down every buyer's search radar:
Width: Baseball cleats for men and women (youth to adults) have three different sizes and widths, namely, wide, extra-wide, and double extra-wide. On the other hand, Cleats for kids only have two different lengths and widths: wide and extra wide.
Material: Two common materials make up a pair of baseball cleats- synthetic and leather. Leather, being the most expensive, feels more breathable. It can also be heavy. But it stretches eventually. A synthetic material, on the opposite end, tends to be lighter and cheaper. However, it is not as durable as leather.
Types of Cut: Three cuts determine the baseball cleat's ankle support: high, mid, and low. High-cut cleats are great for players with sensitive ankles; mid-cuts maintain the balance between ankle support and speed; and lastly, the low-cuts lose the ankle support for flexibility.
Not all baseball cleats are made for wide-feet players. And although some buyers might think that only a few manufacturers offer the wide baseball cleats, the truth ends up being more convenient than expected.
Good news: there are plenty of youth baseball cleats for wide feet out there. The top three qualities are sure to appear in all seven products I am reviewing below. Also, with the help of the buying guide, I hope to offer helpful product options for the buyers. Here are my top seven baseball cleats for wide feet:

Top 1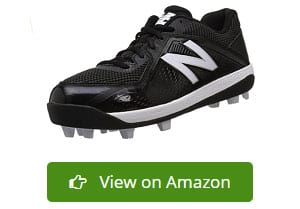 New Balance, J4040PK4
– A nice and cool look that suits all
– Comes as a low-cut type with synthetic material
– Comfortable and lightweight shoes
Top 2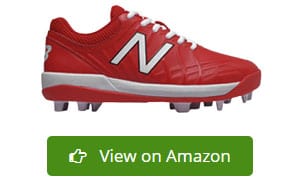 New Balance Kids, 4040
– Works as durable, comfortable, and responsive
– Has EVA midsole and sidewall breathability
– Perforated synthetic holds the piece together
Top 3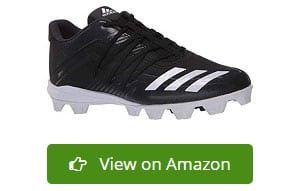 Adidas, G27672
– A durable solid exterior
– Good breathability and mobility
– Great mid-cut portion for a speed improvement
Top 7 Youth Baseball Cleats for Wide Feet Reviews
1. New Balance, J4040PK4, Molded Baseball Shoe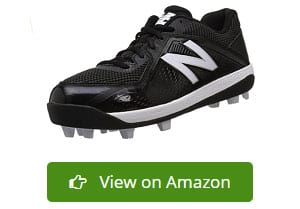 Parents looking for the absolute comfort, wide-feet fit, and flexibility for their kids should find these qualities packed in the New Balance wide youth baseball cleats.
My son has been using it with zero complaints. And since it is a unisex design, parents can purchase this for their young girls for hiking or baseball games.
Outside the baseball standards, I love the shoes' cool design. One can't mistake their build with any other shoe design. Yet, they still manage to be the fit-for-all look. My son even wore them once to a party, and they helped him blend into the crowd naturally. Thus, I can say that this pair of cleats are best on all occasions.
Their low-cut type, 100% synthetic material, rubber molded cleats, and an added rubber sole make wide feet more pronounced for movement. My kids have been moving around, running, and jumping well with these baseball cleats.
Also, they are incredibly lightweight, allowing my kids to enjoy comfort for their baseball games.
My children have been using the cleats for more than two years now. In truth, these shoes are molded with a thick exterior that leaves room for the synthetic fibers to expand for wide feet without breaking apart.
Heads-up:
However, these cleats might be a bit longer than usual, so kids might need some time to break them in.
Pros:
A unisex design for youth hiking or playing baseball games
A nice and cool look that suits all
Comes as a low-cut type with synthetic material
Features rubber molded cleats and added rubber soles for wide feet
Thick exterior makes for durability
Comfortable and lightweight shoes
Cons:
Takes some time to get used to the long cleats
Bottom Line:
The latest New Balance baseball cleats for kids are all about versatility, durability, and comfort! Parents with kids who have wide feet would be satisfied with the package!
2. New Balance Kids, 4040, Molded Baseball Shoe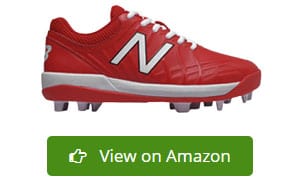 The latest New Balance youth baseball cleats entry boasts similar feats with the previously reviewed product. In my assessment: the product is comfortable, durable, and responsive.
I bought two pairs for my wide-footed twins. And, they especially adored their EVA midsole and sidewall breathability. The shoe bulk not only stretches but also accommodates wide feet.
The product's perforated synthetic upper section importantly holds the piece together. Furthermore, it makes the entire rubber molded plate durable, enhancing breathability altogether. Besides, the pair is surprisingly lightweight, making it an ideal companion for long baseball practices.
One of my kids, who used to be a slow runner, experienced immediate improvement in his speed upon wearing the cleats. Most importantly, it no longer hurts because of its low-cut design.
Although it bears a hardened exterior, it is soft from the inside. So regardless of how and where one uses the cleats, they yield to every angle of the feet.
The cleats' design is unisex. Moreover, the red color, lace cage, and snug fit make them the perfect choice for highly active kids. Their mold suits a wide range of outdoor activities, including some social occasions.
Heads-up:
Yet, this pair from New Balance will cost a bit more than usual cleats for youth available. But its quality and comfort for wide feet are more than worth the investment.
Pros:
Works as durable, comfortable, and responsive
Has EVA midsole and sidewall breathability
Perforated synthetic holds the piece together
Has hardened exterior for durable use
Has a unisex design that fits various purposes other than baseball
Low-cut and lightweight design to avoid hurting
Cons:
Costs a bit more than some youth models
Bottom Line:
The New Balance cleats balance comfort with traction. Kids with wide feet should benefit a lot from this responsive wear.
3. Adidas, G27672, Cleats/ Baseball Shoe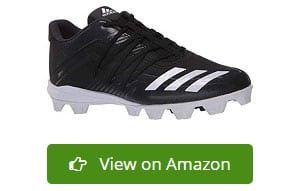 Confidence is key in these latest wide width youth baseball cleats by Adidas. While they appear cute, they also fulfill practical solutions to wearers with wide feet. With their solid exterior, high-quality synthetic sole, thick platform, mid-cut placement, and overall breathability, the cleats securely hold on to the feet.
The cleats' mid-cut portion helped better my kid's speed performance. In fact, it increased my kid's mobility by 30%. It does not matter whether we are buying a wide or extra-wide pair of cleats for our kid, simply because they adjust through time.
Regarding its specifications, the pair has a 6 to 12 inches shaft, measured from its arch. Also, its boot opening is around 0 to 3 inches, similar to its flatform. Therefore, the pair is a good fit for kids aged 4 to 12, depending on the chosen size.
Notably, these cleats come in great design and color choices, including the basic black& white, all-white, and two unique models with power red and collegiate royal. Plus, cleaning and maintaining them proves easiest to do.
They are 100% synthetic from the outer to their soles, thus allowing long-lasting use that suits active teens playing baseball and football.
Heads-up:
I had a problem purchasing them, though. The sellers sent me the wrong size. Fortunately, they were able to replace it within a week. All-in-all, we were satisfied with this confident pair of cleats.
Pros:
A durable solid exterior and high-quality synthetic sole
Good breathability and mobility for wide feet kids
6 to 12 inches shaft, suitable platform and boot opening for various ages
Includes basic colors and unique models: power red and collegiate royal
Great mid-cut portion for a speed improvement in baseball games
Cons:
Has problems during purchase (the wrong size sent)
Bottom Line:
Adidas rules once again by upping confidence with its flexible, cute, beautiful, and wide-feet-accommodating cleats.
4. Guardian Blaze, B093DTXTTD, Cleats for Boys
Parents looking for support, comfort, and firmness in youth shoes for their kids should find satisfaction in Guardian's boys wide width baseball cleats. Holding together synthetic and rubber stability from the upper and down to the sole, the cleats make for a perfect youth and kid fit.
The product further emphasizes its support of wide feet through its lace-up design and perfectly-cut V-cleat trademark. This way, it soothes pressure contact between the feet and the ground.
While it lowers the cut from the mid, it still manages to hold the ankles well. Therefore, youth players can perform well with good protection and speed. Intense movements on all-weather do not, in a single bit, affect the cleats' solid synthetic rubber soles.
The cleats' firmness does not cause pressure on the feet because of the soft and ventilated rubber mesh. Also, its lace-up design comes with air holes for breathability.
The cleats' firmness and stability easily place them as the most professional wear on our list. My twelve-year-old boy wore these cleats the whole day for four days a week, and not once did he complain of pain.
The cleats also prove easy to wear and slip in. Notably, they are qualified for professional baseball experience. The combination of cushioning with a lightweight design will give our young players a good time on the field.
Heads-up:
Parents should look for the right size when picking these shoes to avoid sending them back.
Pros:
Support of wide feet with a lace-up design and V-cleat
Protects the ankle and feet wells with synthetic rubber upper
Comes with air holes and soft mesh for breathability
Easy to slip in and feel comfortable
A qualifying products for professional baseball games
Cons:
Bottom Line:
Thanks to the support, comfort, firmness, and stability, the Guardian Blaze baseball cleats rank as the most professional wear on our list.
5. Adidas Icon, B087RSY2N7, Baseball Cleats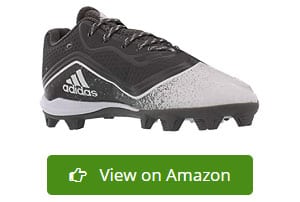 My nine-year-old son used to complain about the athlete's foot, some smell, and some sores. Thankfully, I came across these extra wide youth baseball cleats by Adidas.
Another great thing about the product is its high traction mechanism. This mechanism comes with a molded outsole to accommodate wide feet, allowing players to be in any position. So unlike the previous products, these cleats end up being strictly exclusive to wide feet boys.
This pair of cleats qualify as V-cleats. Meaning, they should integrate the different benefits of the low, mid, and high-cuts in its ankle support pad.
The notable point in its design must be the Nubuck upper that is rugged enough to last several baseball seasons. My kids are super active, and they wear shoes often in practices and actual games, so this pair is an ideal pick.
As stated above, one of the main reasons I went for these shoes is their breathability. The padded tongue proves to be incredibly ventilated, allowing my kids to play long games in hot weather without feeling irritated. The pair indeed brings comfort and support for an extended time.
Heads-up:
In terms of durability, they do rate with a satisfying remark. However, their color quickly fades over the years with constant exposure to sun and rain.
Pros:
High traction mechanism with a molded outsole to accommodate wide feet
V-cleats for the low, mid, and high-cuts in its ankle support pad
Nubuck upper that is rugged enough to last several baseball seasons
Breathable padded tongue for hot-weather games
Cons:
Its color might fade upon frequent exposure to sun rays
Bottom Line:
All in all, these Adidas baseball cleats do not only provide a spatial allowance for wide feet, but they also champion as well-ventilated and versatile.
6. Nike Kids, AT3441-002, Baseball Cleats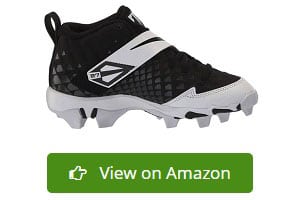 Baseball games and other occasions require comfortable, convenient, and fast wear. And the latest youth wide baseball cleats by the Nike brand hold all the expectations for modern kid and youth wear, all the while keeping the reputation for being the quick solution to wide feet pains.
This Mike-trouted inspired model comes with a synthetic upper design that ensures prolonged use in baseball games. Another great feature of this kid cleat must be its synthetic toe cap designed to resist abrasion. Even if our kids wear the pair frequently, it will not wear out quickly like cheaply-made cleats.
Support for wide feet is what we value in this review, and this pair scores big time with its midfoot strap. As it locks well on kids' feet, they can freely run at high speed and turn abruptly without slipping and hurting their ankles. Besides, these straps look quite good, adding to the overall stylish design of this pair.
As we look for good in-shoe support and comfort for our little baseball players, we discover these cleats with full-length cushions. Such a soft foam will never disappoint in terms of soothing their feet in long-hour games.
Heads-up:
The main disadvantage with its velcro strap is that its stick does not usually last very long. As a result, it would lie around flapping if we do not fix or cut the parts out.
Pros:
Mike-trouted inspired model comes with a durable synthetic upper design
Synthetic toe cap designed to resist abrasion
Midfoot strap adds protection and beauty to the design
Has high-quality rubber exterior and sole
Offers in-shoe support and comfort with full-length cushions of soft foam
Cons:
Velcro strap flap around in the long run
Bottom Line:
The Adidas baseball youth and kids cleats unfold as a trim-down of the usual cleat design. What it achieves, in the end, is a modern and fast-wear design for boys with wide feet.
7. Under Armour, 3022072, Baseball Shoe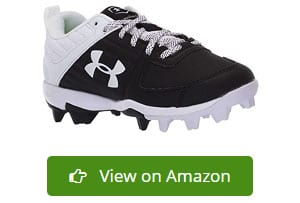 Under Armour has done it again! These latest boys wide baseball cleats model combines comfort and durability. The cleats also feature an optimized toe section that expands smoothly for wide feet.
My 8-year-old boy with wide feet loved them and could not get enough of them. He insists on wearing them to school. Due to the cleat's exterior and soles, frequent use will not wear the pair out any time soon.
In truth, the heel pads and toe cap allow for width-directed expansion and protection. The design can protect both the shoes from breaking and our feet from hurting.
Although the cleats may appear low from the top, they still reasonably manage to support and hold the ankles. These advantages shine because the rubber molded cleat type can keep their outlines in shape.
The cleats perform with a leather-like tightness from their EVA midsole rubber, despite their 100% synthetic construction. Furthermore, the shoe collar pads up to their toe box extension for step-in comfort right out of the box.
Besides the cushioning from the midsole that relieves stress for feet standing on cleats for hours, the shoes also feature a breathable perforation toe box. Hence, such a combination allows kids to feel comfortable during their baseball practices.
Heads-up:
Parents who want to purchase these shoes for their small kids aged six and under can use glove oil to soften the pair a little before use.
Pros:
Durable construction with rugged heel pads and toe cap
Molded cleat​​ type keeps exterior outlines in shape
EVA midsole spreads pressure in the feet
Shoe collar pads up to the toe box extension for step-in comfort
Cushion and breathable perforation toe box for comfortable wear
Cons:
Can be a bit stiff for kids aged 6 and under (tips: using glove oil)
Bottom Line:
The latest Under Armour pair of baseball cleats wins wide feet comfort without losing the toughness necessary of baseball wear.
What to Look for When Buying Youth Baseball Cleats for Wide Feet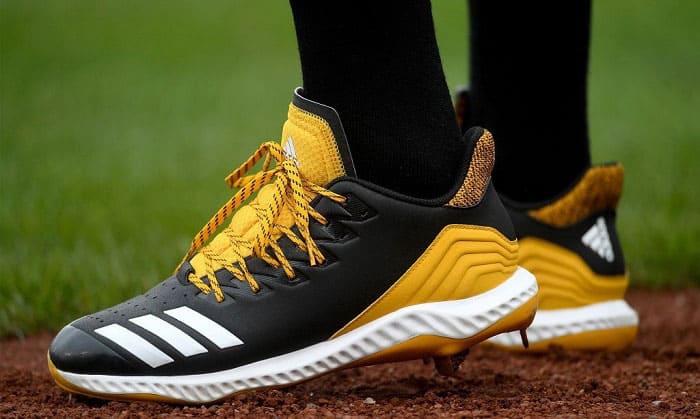 The previous sections summed up the qualities of the top-rated baseball turf shoes for wide feet based on three categories: width, material, and types of cut. Now, let us go deeper into these categories to unpack more precious information.
Height of Cleat
Two main height options determine the user's experience with the baseball cleats: low-cuts and mid-to-high tops. The low cuts yield a pair of cleats that reveal the ankle portion. In this way, it loses some weight and increases the wide feet mobility.
But even a low-cut cleat is required to provide a bit of ankle support and protection. And this should not be compromised.
The mid-to-high cut cleats tend to be heavier and firmer. Meaning, this particular cleat height provides fuller support on the ankle and an expanded platform for wide feet.
A good negotiation between these two heights yields a mid-cut configuration.
Sizing Method
The best kids and youth wide width baseball cleats should, first and foremost, pass the standards of the sizing chart. Most importantly, too, they must satisfy the actual sizing method. Actual, in this case, means having to wear the cleats and getting the feel of it.
The sizing method or steps are as follows:
When wearing the baseball cleats, mind the toe and heel. For the toe, make sure that an exact quarter-inch allowance sets it apart from the tip of the cleat. Make sure that not a bit of space separates the heel from the end of the cleat for the heel.
Wearers with wide feet who could not decide on the exact figure of their feet size (or somewhere in between) would better pick the cleats that are snugger (or even tighter). Expectedly, cleats should loosen up after a few uses and eventually become more comfortable.
Regardless of having a wide pair of feet, a wearer should, first and foremost, see if the baseball cleats are comfortable. Design and style come after.
Types of Cleat
Various types of baseball cleats are to be considered thoroughly when buying a pair:
Metal cleats: Metal cleats ranks as the most popular in the chart. In that respect, metal cleats encourage mobility on unstable and slippery ground like a muddy field, grassy field, and sandy platform.
Molded cleats: Molded cleats are usually made of either plastic or rubber. This type of cleat is lighter, more durable, and flexible. Beginning players with wide feet who want to take it easy in the field could benefit from this.
Interchangeable cleats: The interchangeable cleats are helpful for those who are into customizing features like fitting different studs on different shoes. This type of cleat combines the main features of the molded and metal cleats. Thus, it appears to be the heaviest on the line.
Turf Cleats: The turf cleats impress as the finest, lightest, and most comfortable among the types of cleats. However, their traction seems lesser compared to the first of the three cleat types.
Who Makes Cleats for Wide Feet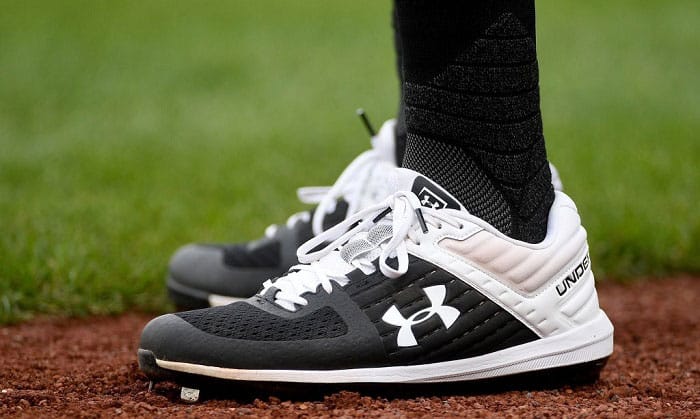 The brands featured in this review, headed by New Balance wide baseball cleats and followed by Under Armour, Adidas, Nike, Guardian Blaze, among many others, all make cleats for wide feet.
Outside of this review, the Japanese athletic brand called Mizuno also has a reputation for making one of the most favorite baseball cleats for wide feet known to the industry.
Is Nike Phantom Good for Wide Feet
The Nike Phantom, or known specifically as Nike Phantom GT, recently takes a wider shape within the Phantom series, with its former version the Mercurials, finally becoming exclusive to skinny feet users.
Although the cleats trace the auspices of the OG Hypervenom cleat variants, they manage to carve their unique stand in delivering wide feet comfort. So while it may not be the top-rated cleats for wide feet, it does provide high accuracy (in terms of traction), comfort, ankle support, and fit.
Another worthy point to consider when buying the Nike Phantom GT is that it leans more like a football boot than an actual baseball cleat. Although some baseball players used them in the past, many details, particularly minute ones, prove their propensity for baseball use remains.
But going back to the question, I would say yes. The Nike Phantom model is suitable for wide feet. Not the most suitable men's extra wide softball cleats, but it is good.
Metal vs. Plastic Baseball Cleats: Which One is Better
The truth is that there is no yes or no answer for this. The arbiter for deciding such is the person's experience.
From the lens of traction and durability, metal cleats perform best in a baseball game. However, the plastic green youth baseball cleats work as a better option from the lens of safety, fit, and lightness (particularly for a person with wide feet).
Plastic cleats expand over time, while metal cleats train the feet to adjust to their curves, improving wide feet control for good. However, this cannot still free the metal cleats from the potential danger to beginning baseball players.
However, the main disadvantage of plastic feats is that they do not usually encourage ease in mobility and technique display. If one seriously considers getting better in baseball, one should consider wearing the metal youth orange baseball cleats.
Conclusion
As we found out in this review, wearing the appropriate best youth baseball cleats for wide feet helps sustain and enhance one's performance in the baseball game. For the player with wide feet, this proves to be an ultimate priority.
Choosing and buying the right baseball cleats for wide feet require an eye for spotting details headed by width, material, types of cut, cleat height, cleat types, and sizing standards.
Only when these elements are kept in mind can a buyer conquer the likes of our top three products: New Balance, Under Armour, and Adidas.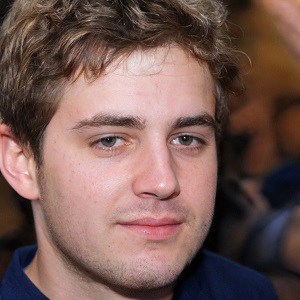 A powerful swing and the ball is flying across the field, just one hit, and we might never forget the thrill it brings. I do not know about you, but I never do. Every baseball game is the chance to compete with others and cooperate with your teammate. It is among my biggest passions.