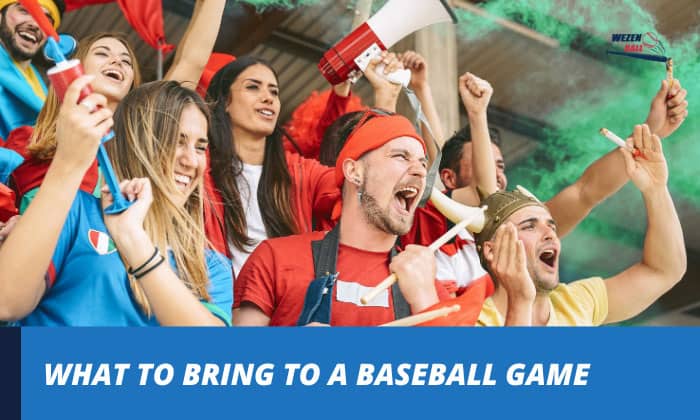 Attending a baseball game is a great way to experience the excitement and energy of the sport. Whether you're a die-hard fan or a casual spectator, there are certain items that you should bring to ensure you have a great time.
In this article, we'll go over what to bring to a baseball game, including essential items, gear and accessories, snacks, and attire. We also provide you with tips to enjoy watching the games, ballpark rules, and prohibited items.
Essential Items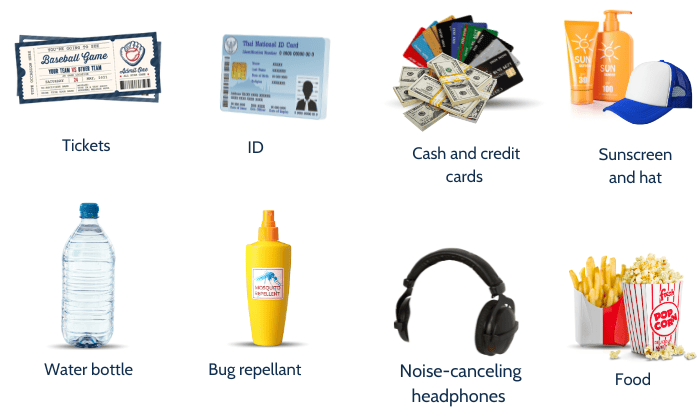 When attending a baseball game, there are essential things to bring so you'll surely have a memorable time. These items include:
Tickets – Make sure to bring your ticket or confirmation email with you to gain entry into the stadium. You can either print out your ticket or use a mobile ticketing app.
ID – Bring a valid photo ID with you, especially if you plan on purchasing alcohol.
Cash and credit cards – While many MLB stadiums now are transitioning to cashless payments, it's always a good idea to have cash on hand for purchases such as food, drinks, and souvenirs.
Sunscreen and hat – Baseball games are often played outdoors during the daytime, so it's important to protect your skin from the sun's harmful rays.
Water bottle – Staying hydrated is important during any sporting event, especially during the hot season. Bringing water can save you money and keep you refreshed throughout the game.
Bug repellant – Protect your skin from bug bites at the ballpark, especially during summer when bugs are rampant.
Noise-canceling headphones – Noise can be an issue in stadiums. Wearing noise-canceling headphones can protect your ears from very loud noise and these may be needed if you bring toddlers to the game.
Food – Bring food to the baseball game to keep your energy up and running while having a great time watching the game.
Must-Have Gear and Accessories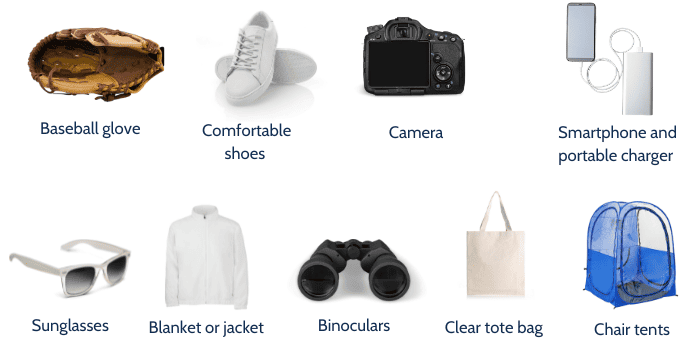 Aside from the essential items, there are certain gear and accessories that will ensure you're enjoying the experience at the stadium. These items include:
Baseball glove – If you're sitting near the field, you might have the opportunity to catch a foul ball or a fly ball. Wouldn't that be an awesome experience?
Comfortable shoes – Stadiums can have uneven surfaces and you'll be walking and standing so wearing comfortable shoes can provide you with support and also protection from painful corns.
Camera – If you want to capture high-def pictures of the incredible feats of your favorite players and take selfies or pictures of the things you see on the field, then you should bring a camera.
Smartphone and portable charger – You can use your smartphone to take photos, check the score, and even purchase tickets. Make sure to bring a portable charger to keep your phone alive during the entire game.
Sunglasses – Protect your eyes from the sun's glare with sunglasses. They're fashionable too.
Blanket or jacket – If you're attending a game during the cooler months or in the evening, a blanket or jacket can keep you warm and comfortable.
Binoculars– Enhance your sightline with binoculars especially if you're situated far from the field.
Clear tote bag- Most ballparks have a strict policy on the size of bags. Make sure to read the clear bag policy of the stadium before going there.
Chair tents– They provide another layer of protection from the damaging rays of the sun during a hot day game.
Snacking Essentials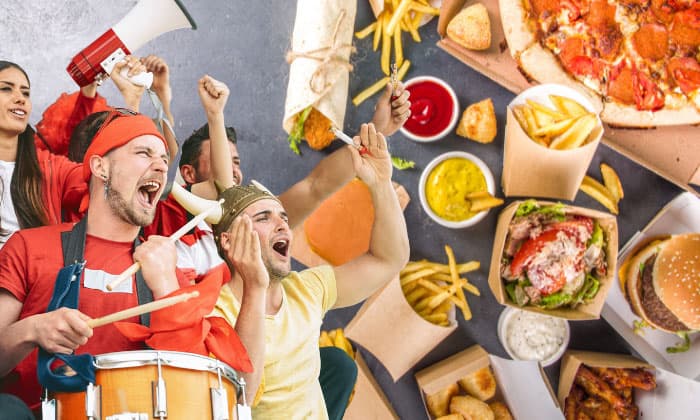 Bringing your snacks and water can save you money because food and drinks cost a lot in baseball stadiums. There are practically endless baseball tournament food ideas you can think of but here are some snacks you can bring to maintain that hype and energy throughout the game.
Granola bars or trail mix – These snacks are easy to pack and can provide a quick energy boost.
Peanuts– The all-time staple snacks that are rich in protein and low in carbohydrates.
Fresh fruit – Apples, bananas, and oranges are easy to eat and provide natural sugars to keep you going.
Sandwiches or wraps – These portable meals can be made ahead of time and are a great option for a scrummy treat.
Popcorns- They're easy and quick to prepare and prevent hunger pangs while you're actively spectating.
Veggie chips– If you want a more nutritious low-carb treat, veggie chips are a good option.
Other snacks you can bring include cheese crackers, hot dogs, fries, ice cream, pizza, hamburgers, or cotton candy.
But wait! Not all baseball stadiums allow you to bring food at a baseball game. Make sure to read beforehand the food policies of the stadium you're going to.
Baseball Game Attire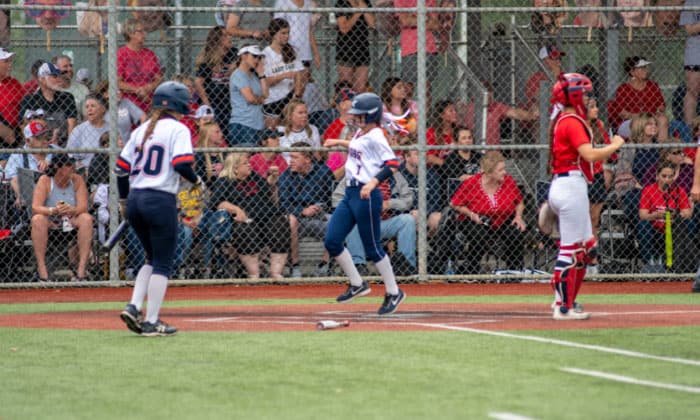 While there isn't a strict dress code for attending a baseball game, it's important to dress appropriately for the weather and to show support for your team. Here are some tips for your baseball game attire:
Wear comfortable clothing
Dress in comfortable, breathable clothing that's appropriate for the weather. This could include shorts, t-shirts, leggings, sweatshirts, or jeans.
Wear clothing with your team's logo or colors to show support and add to the overall atmosphere of the game. You can also wear jerseys or t-shirts with your favorite player's name and number on the back.
Choose footwear that is comfortable for walking and standing, such as sneakers or sandals. Avoid high heels or dress shoes, which can be uncomfortable on stadium seating and walking on uneven surfaces.
Consider bringing accessories such as a baseball cap, team hat, or bandana. These can not only provide shade and protection from the sun but also help you show your team spirit and make you look stylish.
You can choose a monochrome, street-style, chic, sporty, vintage, or celebrity-inspired look depending on your fashion statement.
Tips for a Great Baseball Game Experience
Attending a baseball game can be a memorable experience, but it's important to make the most of it. There are some things to do to ensure that you'll have a great time at the game.
Arrive early – Arriving early for baseball tournaments allows you to explore the stadium, find your seats, and get settled before the game starts. You may also have the chance to watch batting practice or get autographs from players.
Bring a friend – Attending a baseball game with friends or family can make the experience more enjoyable and create lasting memories.
Get involved – Join in the cheers, chants, and traditions of the game to feel a part of the crowd and show support for your team.
Do research on the teams that are playing in a travel baseball game. Knowing about the teams and their players can bring more excitement and anticipation while watching the games.
Take photos – Baseball stadiums are often picturesque, and taking photos can be a great way to treasure the experience.
Stay until the end – Even if your team is losing, it's important to stay until the end of the game to show support and experience the excitement of the final innings.
The Rules You Need to Know Before Going to Baseball Game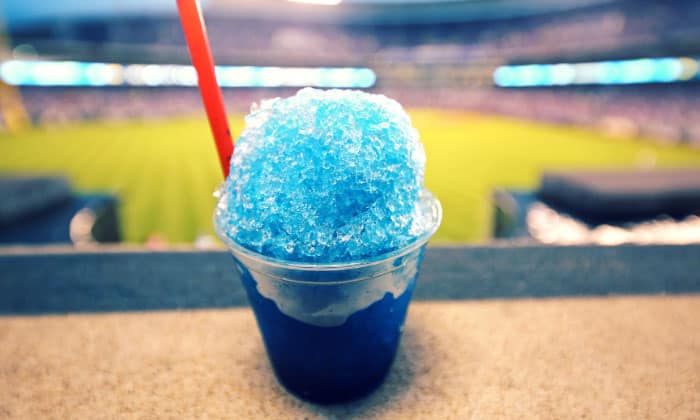 All baseball stadiums have rules and policies. Before attending a baseball game, it's important to familiarize yourself with them to avoid hassles, penalties, or injuries. Here are some common rules you should know:
No outside food or beverages – Be sure to check the stadium's policies because some of them prohibit outside food and drinks. Citi field for example bans outside food.
No smoking – Smoking including e-cigarettes and vaping devices is not allowed in most stadiums such as Yankee Stadium and Nationals Park.
Don't stand up during the critical part of the game- Stay seated while the game is ongoing. You don't want to rile up excited fans by blocking their view when you just stand up or walk around.
No foul language, obscene gestures, or disruptive behaviors – Fans are expected to behave respectfully and avoid using foul language or engaging in unruly behaviors.
Don't interfere during the game or go crazy- Do not jump over the fence to catch a ball. Never touch a ball while it's on play or else you'll piss the crowd off and get booed.
No throwing of objects – Throwing objects onto the field or in the stands is not allowed and can result in ejection from the stadium.
Trespassing, loitering, soliciting, peddling, vandalizing, and other dangerous behaviors are strictly prohibited.
Indecent clothing and inappropriate displays of affection are also a no-no.
Items that are Prohibited at Baseball Games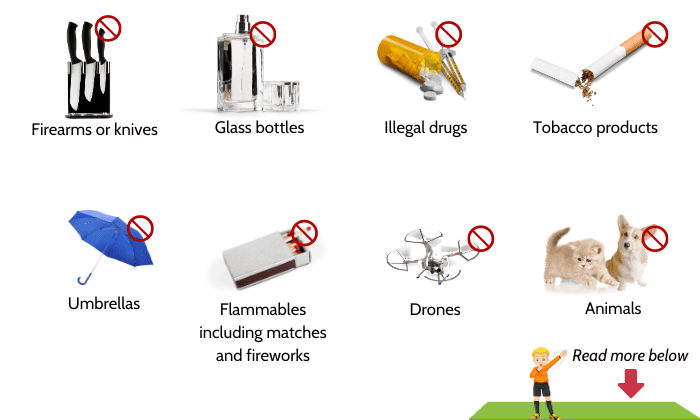 Check out this list of things that are prohibited at MLB stadiums. Make no mistake or else you'll be penalized or get ejected from the stadium.
Weapons including firearms or knives
Glass bottles
Aerosol cans
Illegal drugs
Tobacco products
Umbrellas
Flammables including matches and fireworks
Drones
Animals
Bags /purses larger than 16''x16''x8''
Backpacks larger than 16''x16''x8''
Styrofoam coolers
Balloons
Noisemakers
Laser pointers
Whistles
Skateboards, hoverboards, segways, and cycles
FAQs
How can I safely store my belongings at a baseball game?
Most stadiums offer lockers or bag check services for a fee. You can also bring a backpack and or a small bag but make sure to read the MLB bag policy beforehand.
How to pack items efficiently and securely for a game?
Use a backpack with compartments or a compliant bag to organize your items and keep them easily accessible. Secure valuable items in a zippered or locked compartment, and keep them close to your body.
Avoid bringing bulky or unnecessary items that could slow you down or take up space.
Conclusion
Attending a baseball game isn't just about watching your favorite team play; it's also about the overall experience. From the excitement of the game to the camaraderie with fellow fans, attending a baseball game can create lasting memories.
By following these tips and guidelines on what to bring to a baseball game, you can ensure that your next baseball game experience is an awesome one.
So, gather your friends and family, bring your essential items and must-have accessories, and get ready for a great day at the ballpark.
Enjoy the game, cheer on your team, and have a wonderful time!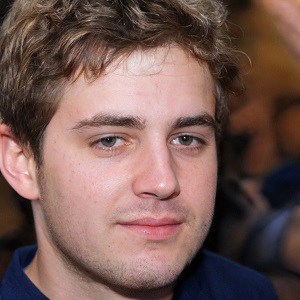 A powerful swing and the ball is flying across the field, just one hit, and we might never forget the thrill it brings. I do not know about you, but I never do. Every baseball game is the chance to compete with others and cooperate with your teammate. It is among my biggest passions.