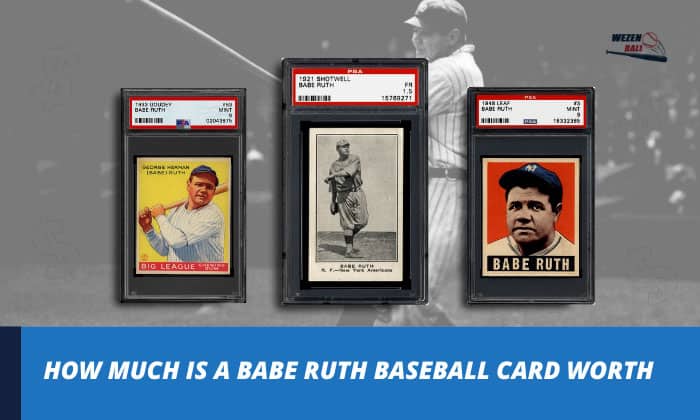 So many superlatives could be attributed to the name Babe Ruth, but only one adjective could do this man justice — legendary.
George Herman "Babe" Ruth, from being Red Sox's young pitcher to becoming the Yankees' phenomenal outfielder, has revolutionized the history of baseball in America and the world. He is known to be the greatest hitter to ever grace the sport, earning him the title "The Sultan of Swat".
Now you ask, how much is a Babe Ruth baseball card worth?
Depending on their condition, the cheapest ones can cost around $50 to about a hundred dollars. Those that are rare and sought after cost a hundred thousand dollars with the most expensive at $6,000,000.
Babe Ruth Baseball Cards Prices
The history that Babe Ruth left has been such a monumental event in baseball that it translates to his memorabilia being sold at the most expensive prices. His baseball cards were dated back decades ago, that's why the authentic ones are sold at lavish prices.
Here's a quick rundown of Babe Ruth card prices based on types:
1. Rookie Cards
These are the rarest Babe Ruth baseball cards, with only two cards fitting to be called under this category.
The first one is the 1914 Baltimore News Babe Ruth in which the original card is slightly damaged because of its age. A Babe Ruth rookie card value, specifically this one, at $6,000,000 in 2021.
The second Babe Ruth rookie baseball card is 1915-1916 M101-4/5 Sporting News #151 Babe Ruth which was auctioned for $440,217 in August 2022.
2. Early Career
This type is quite hard to find. One card fitting in this era is the 1917 E135 Collins-McCarthy #147 whose copies are limited, and are priced at $116,850.
Another card for this type is the 1921 American Caramel Babe Ruth which is recently priced at $15,000. There are also the 1921 Exhibits W461 Babe Ruth and 1922 E120 American Caramel Babe Ruth, priced at $27,500 and $6,000, respectively.
3. Late Career
This type of Babe Ruth baseball card only has a considerable amount of copies, but it's known that the price range for these cards is $5,000-10,000. Although real copies of this type are limited, they are popular amongst collectors.
4. Post-career Vintage Cards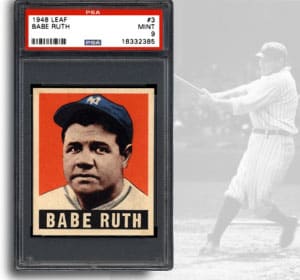 Babe Ruth vintage cards are such a rare find, and when you do find them, they're usually not in good condition anymore. A famous vintage baseball card 1948 Leaf Babe Ruth #3 priced at $4,500.
There's also the 1952 Topps Look 'n See Babe Ruth #15 priced at $600-1,000. Some other vintage cards are priced from $200-$600.
5. Signed Babe Ruth Baseball Cards
There aren't many signed copies of Babe Ruth baseball cards, however, modernity has enabled the reprinting of copies with autographs. A 2022 Topps Luminaries with a cut signature is a current example, sold for $17,600.
Top Valuable Babe Ruth Baseball Cards
Babe Ruth's baseball cards value list increases as the year goes by, like a fine wine aging with time. The top 5 most valuable Babe Ruth baseball cards, when it comes to the selling price are the following:
1914 Baltimore News for $6,000,000
1933 Goudey Babe Ruth #53 for $4,000,000
1916 M-101-4 Sporting News #151 for $2,000,000
1921 Shotwell for $1,000,000
1921 Oxford Confectionary for $8,000,000
The Current Market Value of Babe Ruth Baseball Cards
If you're looking for the cheapest Babe Ruth card, you can find a vintage one for as low as less than $50. Data shows that the current market value of Babe Ruth baseball cards is from less than $50 to as high as $6,000,000 as of September 2021.
Pictures of Babe Ruth baseball cards or even the actual copy shall be made available by sellers upon your transaction.
Record-breaking Sales
Babe Ruth's baseball cards constantly increase with time, and rightfully so. Case in point, a Babe Ruth baseball card was sold for $2,400,000 in November 2021.
In recent news, a 1933 Goudey card that was autographed was sold at $761,100 in February of 2021. Prior to this, there was also a card similar to it that was sold at $325,000 last 2020.
In September of 2021, a 1914 Babe Ruth card was also sold at $6,000,000, as mentioned above. This has broken the record of the previous Mickey Mantle $5,200,000 card.
In other news, a rookie 1916 Babe Ruth card was sold in 2021 for a price of $2,460,000. Prior to that, a 1916 Sporting News Ruth was also sold for $1,450,000.
Factors That Affect the Babe Ruth Baseball Cards' Value
The main factor that contributes to the value of a Babe Ruth baseball card is Babe Ruth himself. His charisma and character were one that translated beyond baseball, actually touching people's lives.
The pricing of baseball cards depends on these factors:
Condition – This is evaluated by looking at the edges, corners, and overall quality of the card.
Print year – It's like a golden rule in card collection – the older a card is, the more valuable it is.
Rarity – Cards that are limited usually cost more than those that aren't.
Ungraded versus graded cards – Graded cards usually prove that they are authentic so they're commonly more valuable, much like how gold is graded.
Frequently Asked Questions
Are Babe Ruth baseball cards a good investment?
Yes, they are a good investment, especially those that are quite older. However, you must do it with proper research and under professional guidance.
How can I preserve and protect my baseball card collection?
Always secure them in a penny sleeve, then to a top loader, and a team bag. You can also utilize a glass display for intricate protection.
What are some other valuable baseball cards besides Babe Ruth's?
A few names worth mentioning are Honus Wagner's and Mickey Mantle's baseball cards.
How can I sell my Babe Ruth baseball card for the best price?
If your cards are at a lower value, you can try selling them on eBay or any online selling platform. For cards that are more valuable, better sell them through trusted dealers or auction houses.
How many Babe Ruth cards are there?
A total of 11,460 baseball cards are available to date – 2 of them rookie cards, while 4,975 were variation cards.
How much is a 1927 Babe Ruth baseball card?
A lot of 1927 Babe Ruth baseball cards are sold on eBay for about a couple to a hundred dollars.
Conclusion
Babe Ruth baseball cards are one of the most in-demand cards to ever exist. They are proof of Babe Ruth's legacy which remained even years after his prime.
If you've been planning to buy these elusive cards, reading a guide is the first step to finalizing your purchase. In this "How much is a Babe Ruth baseball card worth?" guide, we hope we did just that.
Also, don't forget to consult experts and have deeper research when you're about to invest in baseball cards. See you next time!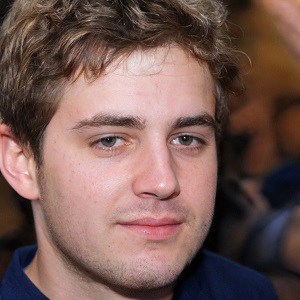 A powerful swing and the ball is flying across the field, just one hit, and we might never forget the thrill it brings. I do not know about you, but I never do. Every baseball game is the chance to compete with others and cooperate with your teammate. It is among my biggest passions.